Shared Use Center «Nanotechnologies»
About department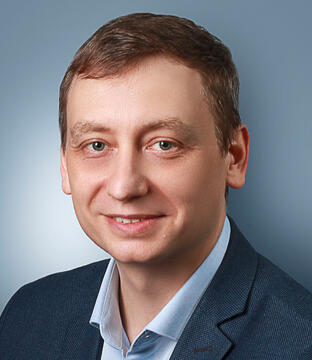 Chief of Metal Complex Catalysis Department and Shared Use Center «Nanotechnologies»
Chernyshev Viktor Mikhailovich
General information of the department:
Shared Use Center (SUC) "Nanotechnologies" of the South-Russian State Polytechnic University. M.I. Platova (NPI) traces its history back to 2005. The creation of the SUC was initiated by the implementation of work on the topic: "Scientific, methodological, organizational and logistical support for the development of the Shared Use Center of the Southern Corporate University "High Technologies" with scientific equipment for research, experimental -design and technological work in priority areas of the Program" within the framework of the federal target scientific and technical program "Research and development in priority areas of science and technology" for 2002-2006 (state contract No. 02.451.11.7007 dated August 29, 2005, No. RI-25.0/001/062).
SUC "Nanotechnologies" is currently a structural subdivision of SRSPU (NPI) and is located in a specially equipped building located on the territory of the university complex.
SUC carries out analytical studies of substances and materials, and also carries out related science-intensive activities in the interests of SRSPU (NPI) (and other customers on a contractual basis).
Areas of activity of the SUC:
Analytical studies (analysis of substances and materials by order of employees of SRSTU (NPI) for laboratories in accordance with professionally solved tasks, other universities, mining, food, processing and chemical industries);
Support for the educational process;
Consulting;
Implementation of research;
Training.
SUC has the following main instruments and complexes:
Energy dispersive X-ray fluorescence spectrometer ARL QUANT'X Thermo Fisher;
FT-IR spectrometer Varian 640;
Spectrophotometer Shimadzu UV mini-1240;
X-ray diffractometer X'TRA Thermo Fisher;
Scanning electron microscope Quanta200 with X-ray energy dispersive microanalyzer EDAX Genesis 2000 XMS 30;
Scanning Probe Microscope Solver HV;
Agilent 7890A Gas Chromatography Mass Spectrometer with MSD 5975C Mass Selective Quadrupole Detector;
Synchronous thermal analysis device STA 449 F5 Jupiter (NETZ-SCH, Germany) with the possibility of mass spectral analysis of vapors;
Analyzer of pulsed chemisorption, TPD/TPO/TPR and specific surface area ChemiSorb 2750 with ChemiSoft TPx attachment;
MicroTrac Bluewave particle analyzer (including nanoparticle analysis);
Liquid chromatograph Agilent 1260 Infinity (USA), equipped with a diode array detector (DAD) and an evaporated sample light scattering detector (ELSD), with the possibility of preparative HPLC;
Bruker Avance Neo Nuclear Magnetic Resonance (NMR) Spectrometer (300 MHz);
Software-computer complex Gaussian'09 for quantum chemical calculations.
Basic goals:
Conducting fundamental and applied research, implementing and replicating the results of research activities;
Improving the quality of vocational education for students, graduate students and professional retraining of specialists at all levels;
Creation of conditions for cooperation with other educational, scientific and industrial organizations and enterprises;
Development of the material and technical base for fundamental and applied research work.